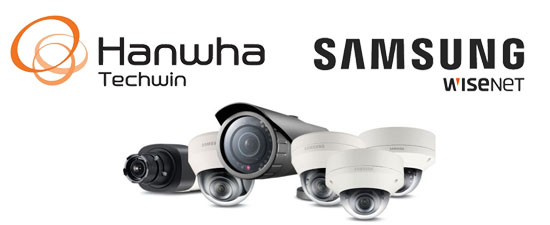 AmeriTel is proud to feature Samsung's Wisenet Q series, an affordable product line offering simple but essential features ideal to secure small to medium sized applications. Find your compact camera solution with the professional Wisenet Q series.
Broad line-up of indoor and outdoor cameras
Wisenet Q series offers a wide range of indoor and outdoor Bullet / Dome / Vandal cameras to cover multiple application needs for retails, banks, residences, offices or transportation delivering crisp and clear image qualities.
Improved bandwidth utilization with WiseStream, H.265
New Wisenet series camera's streaming performance is greatly enhanced by applying an advanced compression technology called WiseStream. WiseStream can reduce bandwidth by 50% by using dynamic GOV control technology, and used with high efficiency video coding(H.265). The bandwidth efficiency can reach up to a 75% savings as compared to other camera technologies.
* Wisenet Q & P series support WiseStream. Only Wisenet P series support 4K resolution. (Not Q series)
Defocus detection
The entire Wisenet Q series support defocus detection, which helps to realize when focus is out and greatly improved the
efficiency of the operators. User can also adjust the optimal focus remotely via the network (4MP Varifocal product), greatly
reducing the installation / optimization time of the camera.
Various lens
The Wisenet Q series have the fixed lens range from 2.8mm to 6.0mm. If you want wide surveillance, you can use our 2.8mm lens
model and if the surveillance object is either small or located far away from the camera, you can use our 6.0mm lens model.
So you can choose camera as your needs.

Hallway view for monitoring vertical shaped areas
In a vertical shaped environment, such as corridors, hallways, tunnels, or aisles, traditional horizontal shaped videos focus on
unnecessary edges of the area causing bandwidth and storage waste. By utilizing the hallway view, 3 : 4 and 9 : 16 aspect ratio
image is created : a vertically oriented video that maximizes image quality in narrow locations.

Minimize image distortion by Lens Distortion Correction
Lens Distortion may typically appear in videos causing straight lines close to the edge curve outwards. With the Lens Distortion
Correction technology available on the Wisenet Q series, imperfections in images can be easily repaired.

Specialized for small to medium sized applications
Wisenet Q series are ready to solve any challenges you may face especially on small to medium sized applications.
• By using Wisenet Q series and PoE NVR together as a network solution you can save both installation time and cost, suitable for small to medium sized  applications.
• Install cameras on entrance/lobbies, parking lots, elevators, hallways, aisles and more.
This professional surveillance camera will enable you to create a secure environment meeting your needs.